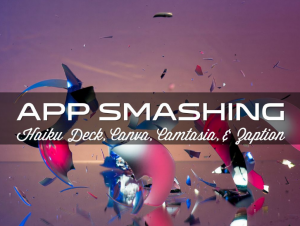 In past years, I've introduced vocabulary words traditionally. I designed a Frayer model on Google slides, and I presented the word, definition, synonyms, antonyms, and examples. Then I presented a samply sentence and a sentence stem for the students to finish.
Yawn.
Who did all the thinking to add to the Frayer Models on the slide deck? Me. Who should be creating the ideas to add to the Frayer model? The students.
I'm changing that this year.
Today I made an app-smashing video for my first set of vocab words from Beowulf. First, I made a screenshot of the words in context, and using Canva, I uploaded those screenshots to a 600×800 px canvas and added a background.
Next, I went to Haiku Deck and made a slide for each of the words and definitions.  I downloaded the deck into PowerPoint and then exported them out as images.
Then I put all the screenshot images and definition images into Camtasia. I did a short screencast to introduce the video, and then recorded my voice over the definition slides, explaining the definition and how the word connects to real life.
Last step:  Uploading it to Zaption.  This is where I added questions about the context clues and stopped the video when I wanted students to take notes.
Students will take notes on their Frayer Models (I use this template in Google Drive). I'm also considering let them do sketchnotes this year, giving them a choice between the Frayer Model or the Sketchnote.
It took a while, I'll admit, but now that I've got the first one down, the rest should go faster.