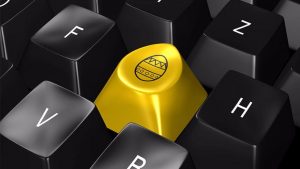 Nearly every week I participate in the #games4ed chat, and every week I am so blessed to learn new takeaways from some of my favorite Twitter peeps! Last night's chat focused on Easter Eggs in games, and here are some of my favorite ideas:
Tale Blazer: New to me, Tale Blazer is MIT's AR software that allows teachers and students to build mobile games around any subject. It sounds like it has amazing potential and can't wait to play with it more!
Easter Eggs Throughout the School: I loved the concept of planting eggs for the entire student body. One very simple idea was putting Easter Eggs in the daily announcements–something that would be great for middle and high school students. Another idea shared was setting up Easter Eggs during Back to School nights or Student Orientation Days–a great way to get incoming freshmen to interact with their surroundings more!
Games that use Easter Eggs–Literally: While planning the chat, I ran across some great idea for actually using eggs, like using eggs to teach prefixes, roots and suffixes. Other uses could be for math problems or any type of game that connects two ideas together–Great for tactile learners!
Full Transcripts from the Easter Egg chat can be found here.
If you've never been to a #games4ed Twitter chat, come check it out! Every Thursday, 8pmET/7pmCT/6pmMT/5pmPT!