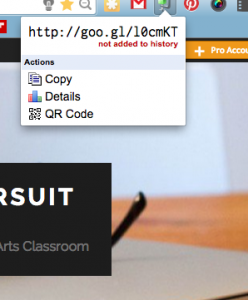 If you use Google URL Shortener, you've seen this same drop-down menu that I've seen thousands of times.  Until this week, however, I'd never checked out the "Details" option.
Let me tell you:  it's pretty cool.
By looking at the details, you can see how effective your shortened URL is at streaming traffic to your page.  Above is the details page for my Chrome Extensions page on my website.  Not only can you see how many people have used the shortened URL, but you can also see the referrers, the browsers, and even the platforms.
What I find the coolest for students is the world view.  After teaching them to promote their blogs using shortened URLs, they can see how their audience goes far beyond their teacher, their classmates, or even their town.  It's a global audience (and thanks to the viewer in India who checked out this page in time for me to present it at the Summer Tech Institute this week!)