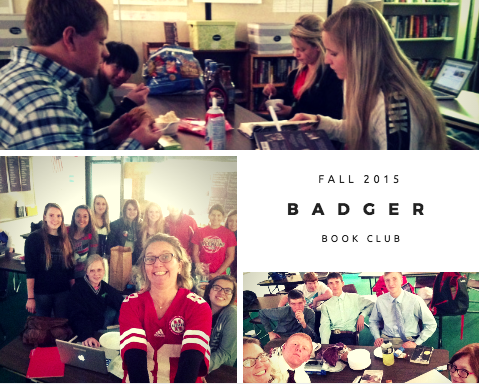 A crucial component of my classes is independent reading.  I expect my students to read a book of their choice the first ten minutes of class each day while I touch base with students who were absent the day before, take attendance, record books and page numbers of each student, and conference with students.
This reading time is sacred. My students know they're not allowed to do homework or check their grades on their computers. It's solely for reading a book they like.
In the past, students have written reading responses, but I was ready for a change.  Luckily, I crossed paths with Catlin Tucker's blog post about her independent reading book clubs, which inspired me to create my own book clubs.
Here were my expectations:

We held our first celebrations this week, and except for a few students' food forgotten at home, it was an undeniable success. I started each class by sharing my food (cinnamon bear candies), inspired by the book The Fever by Megan Abbott (since both spicy candy and fevers can make you sweat). After a 30 second spiel about the book, I read the first page.
Afterwards, my students all took turns volunteering to share their food and their book. As each period went on, I noticed students talking longer about their books, wanting to share more and more details.  Most important, though, was the quality of passages they read. They strove to share exciting excerpts, and everyone truly listened to each other and the passage being read.
The only thing that could have made it better would've been bringing in a few couches and loveseats and made it a coffeehouse setting. Alas, you can't always get what you want.
Check out their textual/visual responses:
Expository Writing: http://expository.edublogs.org/fall-reading-projects/ ‎
British Literature: http://vhsbritlit.edublogs.org/fall-reading-projects/ ‎
Applied Comm 11: http://appliedcomm11.edublogs.org/fall-reading-projects/ ‎
Applied Comm 12: http://appliedcomm12.edublogs.org/fall-reading-projects/