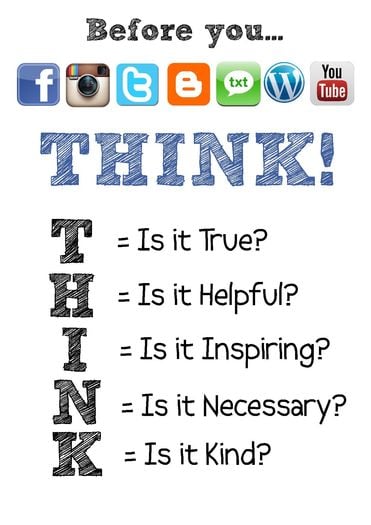 It's Digital Citizenship Week–and Digital Citizenship is an issue that becomes more and more relevant and important every year. All of us–students and adults–need to be aware of our digital footprint that we leave behind. What reputation do we build about ourselves online?
If you're not convinced that Digital Citizenship is important, take a look at these statistics:
93% of employers check social media profiles before making a final decision (2014 Social Recruiting Survey)
55% of employers have reconsidered a candidate based on his/her social media profile (2014 Social Recruiting Survey)
Between 35-86% (Kaplan Test Prep and Chicago Tribune) of colleges admit to searching prospective students' social media profiles (Facebook, Twitter)
67% of colleges admit to Googling prospective students (Chicago Tribune)
Sexting charges in Nebraska consist of being placed on sex offender list for life and minors lose cell phone for 1 yr. (Karen Haase, KSB School Law)
Nebraska county attorneys are prosecuting teens and adults at the same rate for sexting. (Karen Haase, KSB School Law)
In December 2014, over 100,000 hacked Snapchat photos and videos were published and indexed for the world to see (USNews.com)
If subpoenaed by a court, any photo or video on social media (including Snapchat) can be accessed–even if the owners deleted the photo or video on their own devices. (Karen Haase, KSB School Law)
Set a goal this week to create a good habit:  T.H.I.N.K. before you post on social media.
T:  Is it true?  Only post information that you are 100% confident is true.  If you're unsure–don't post it.
H: Is it helpful?  Will your post be helpful or beneficial to your audience? Or will your post generate feedback that will be helpful to you?  If the answers to these questions are "no," reconsider posting that message.
I: Is it inspiring? Not all posts are meant to be inspiring or encouraging, but this is also a reminder not to use social media as an outlet to complain or discourage others. Is the purpose of your post only to vent? Then rethink that post.
N: Is it necessary? Your post may not be urgent or vitally important, but will others benefit from this information? Are you passing on news that others should know? If so, then post it! But if you're sharing personal information or hearsay that others don't need to see, don't post it.
K:  Is it kind? Double-check the message one last time. Could someone interpret the post as hurtful or derogatory? Remember that sarcasm is hard to interpret online, so what may be obvious to you may not be so clear to others.
When you T.H.I.N.K. before you post on social media, you'll not only avoid conflicts and problems, but you'll also establish a stellar digital footprint that will create more opportunities for you when applying for college and employment. When employers and college recruiters see a profile filled with posts that are true, helpful, inspiring, necessary, and kind, you're more likely to get that job or college acceptance letter.
**This was written for our local school website. Feel free to use it on your own sites–please just attribute accordingly.

T.H.I.N.K. Before You Post by Melissa Pilakowski is licensed under a Creative Commons Attribution 4.0 International License.