I don't teach financial literacy, but I have been offering two great games as side quests for my juniors and seniors in my ELA classes because they help my students start thinking more about their future finances.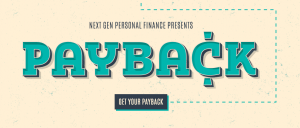 Time for Payback. This is my favorite of the two. Think of it as the Oregon Trail game with the college theme. The goal is to get through college without accumulating too much debt–but beware! Some of my students found that if they focus too much on saving money and working extra hours that they lose the game and "drop out." This game is robust with lots of choices for students to make and also includes some simple mini-games to mimic the stresses of college, such as registering for classes and balancing your time.

2. Claim Your Future. While not as robust as Payback, this one focuses more on careers and salary. Players still have budget choices, such as housing situations and food budget. While Payback is best for students considering college, Claim Your Future is great for ALL students, including lower-ability students who might be living with their parents for a time after graduation (there is an option for that in the game, too).
Juniors and seniors know about debt and finances. But often, they don't think about how the choices they'll be making this spring and summer could be making huge impacts on their future finances.  These games prompt students to think about those choices and decisions now.