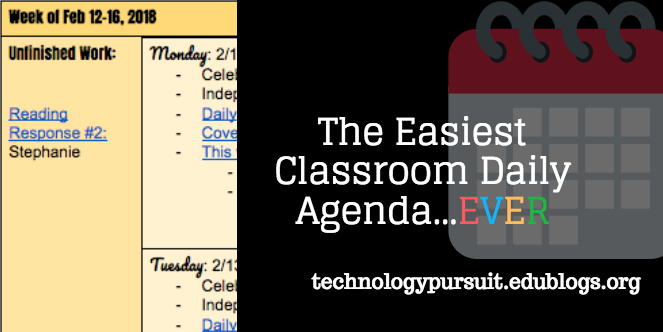 Update 4/19/20: We're all trying to cope with remote learning right now, but I can tell you I still use this format! It's been a lifesaver during this crazy time.  If you want to make a copy of my file, click here, and then go to File > Make a Copy.
For years I experimented with daily agendas for my students. Each year, I rolled out a new technique, from the whiteboard to a website, looking for the right one to stick.
Then I embraced the obvious, simplest answer: A Google Doc. Below is one of the agendas we are currently using this year.
I created one for each one of my preps. Each week I add a new table with the dates at the top, missing work in the left margin, and then a cell for each day of the week. One document lasts all year long, so in the first days of school, my students bookmark the page so they can click on it anytime.
This method has reaped benefits:
Any links my students need are available in one place.
Changes are easily made–so much easier than using webpages or slides.
Absentee students can always review what they missed.
Students have an overview of our journey and always know what to expect. Even outside of class, I see them on the agenda.
I don't have to remind students about missing work. I keep a reminder section and link the assignment, as well.
Our school has "make-up slips" that students have to have signed before being excused for school activities. I never have to think what to write. It's always the same: Check the Agenda.
I have a record of an entire year on one document. I refer back to previous years to compare pacing, refresh my mind about activities I used, or locate docs I can't find in my Drive.
And let's talk about the memes. They're fun. I change them every week as well. They have no other purpose than to make everyone smile and look forward to the change at the beginning of the week. It's all about building a culture of fun.
This is the fourth year I've used Google Docs for my daily agendas–and I don't foresee changing it anytime soon!