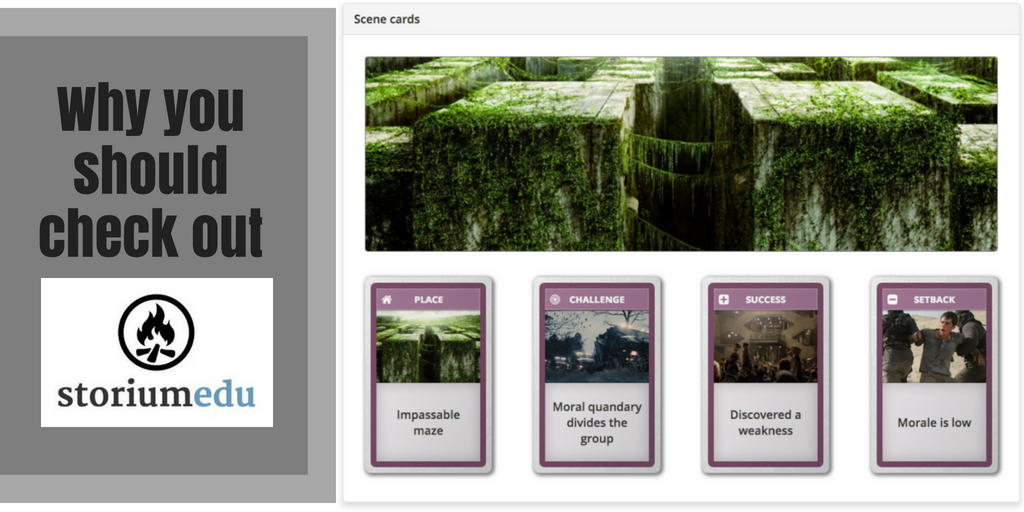 Next month, I'll be presenting my top ten favorite critical thinking games for the classroom at Summer Spark, but here's a sneak peek at one that's going to engage almost every student: Storium EDU.
This spring, some of my students beta-tested the new StoriumEDU. Similar to the amazing original Storium, the EDU version allows students to work together to create a 3-scene narrative story followed by an epilogue.
As a teacher, you set up a classroom and add your students. Then you start a "game" by selecting the students who will collaborate together on a narrative. You can remain in the game as one of the players or assign one of the players to be the "organizer," essentially the leader, and make your students do all the writing. (As a teacher, you still are able to access and control the story at all times.)
Each player selects a character archetype and can either choose an avatar available in the system or upload an image of their own.
At the beginning of each game, the team selects cards that determine the setting, the initiating event, the ending conflict, and the overall tone/mood of the game. The players can accept the cards or "reshuffle" until they get a set they like.
A similar set of cards is selected at the beginning of each scene, giving students more focus about what to write and how to shape the story. Each student writes part of each scene, contributing more to the story. At the end of Act 3, the student with the highest word counts earns the chance to start the epilogue.
Here are some of the aspects I like about StoriumEDU:
-The cards in the game guide students to create strong characters and a narrative arc, but students are also free to make their own choices if they find their story moving in another direction.
-The current game comes with a default Young Adult Dystopian deck, but teachers can create their own decks. This can create huge possibilities–history teachers can create a deck set in the Civil War, for example. Tailoring your decks to fit your content area allows teachers to bring this narrative game to nearly every class.
-Right now, only teachers have the capability to design a deck, but a couple of my students used my log-in to create their own horror-based decks. There are great possibilities here–students can create their own genre of deck and then another group of students can write a story based on it.
– Although students do not need to be near each other to write their stories, the students who sat together and planned the story out loud created a stronger and more cohesive story than those who didn't talk to each other. The game definitely promoted teamwork and verbal communications skills between teammates.
If I were you, I'd go to https://storiumedu.com/ and sign up for the waiting list. Seriously, like now.