I just returned from Summer Spark in Milwaukee yesterday.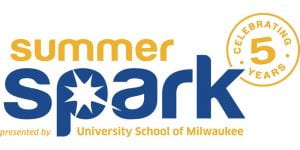 I'm exhausted. I got home, brought in my suitcase, and collapsed on the couch and slept for two hours (except for the one moment when my teenage daughter thought it would be funny to tickle my feet. Death threats were given.)
But this is how you know that a conference was phenomenal–you're fully exhausted afterward. And you don't get fully exhausted from the sessions, although the sessions at Spark were amazing. Truly. I highly recommend going.
What makes a good conference GREAT is what happens outside the session.
And I'm not talking about the adult drinks, though those are fun, too. What I'm talking about is the deeper conversations about our beautiful practice called teaching.
Let's start with the power of roundtables and food. Over breakfast and lunch and great food at Spark (the great food is a bonus), teachers from several states (and Canada 😉 shared philosophy and opinions about the greatest issues in our practices. We covered grading, professional development, social media, instructional coaching, just to name a few. While sessions are great, it's these conversations  that are just as powerful. Great conferences provide these moments.
The learning extends to evenings, too. If you've been to ISTE, you know the hundreds of social events available. And though you may be tired–trust me, I'm an introvert, so I always am–you need to go. Or if you're hosting a conference, you need to plan one. At Spark, there's always a game night, accompanied with good food and beverages. We didn't talk education, but we built relationships. We laughed hard, those deep stomach-hurting, tear-erupting laughs that never end. And we played games. Admittedly, I never like learning a new game. It takes brain work. However, I'm always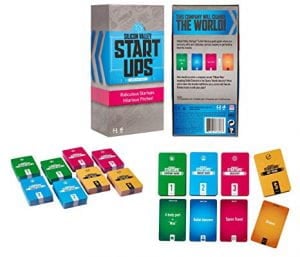 glad I did. This year, I learned to play Silicon Valley Startup, a game I had little interest in. But as I played, I started thinking of classroom connections. I also built relationships and connections with my fellow players (I'm talking to you Mike Washburn, Jon Spike, Jeff Gargas, Chad Ostrowski, Dave Kolb, Scott Beiter, and Lori London). If you want teachers to build relationships, I'm not sure there's any more effective way than introducing a hilarious game.
Let's not forget the transportation to these events. These moments are oft overlooked, but they're also opportunities for conversations and laughter.  I was fortunate enough to spend time with Andrew Arevalo @gameboydrew during my layover to Spark and with Tisha Richmond @tishrich before our flight out of Spark. These are opportunities to hear more about their teaching lives, which are so different than my own. If we don't get out of our region, we don't learn about how different schooling looks in other parts of the country. Car rides to events also lead to deep conversations about podcasts and social media and other educational topics–and what's more important about these conversations were the people willing to discuss both sides of the issue without passing judgment.
My point is that the sessions at education conferences are good and important. I certainly choose which ones I attend depending on the speakers who will be there and if I'll learn something new from them that I didn't know before.
But to take your conference–or your conference experience–from good to great is the conversations that you're having or providing the opportunity for outside those sessions.