I wanted to do a super easy check-in at the beginning of each week, but I also wanted it to be fun.
Thus, the Weekly Check-In with Memes.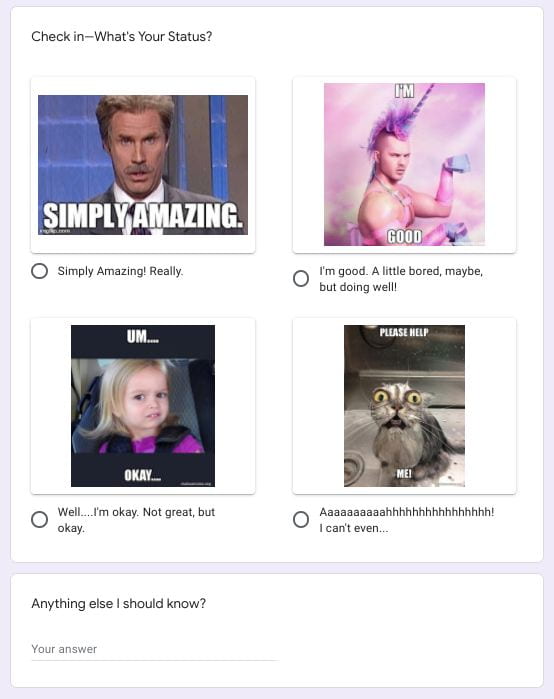 It's easy-peasy to make this happen.
Find and download the memes you want to use.
Open a Google Form
Choose a Multiple Choice Question
For each "option", click the image button and upload the meme you want.
Add a final open-ended question
This open-ended question has given me insight into a lot of what the kids are thinking and feeling. Given that I teach seniors, a lot of them wanted to vent about this lackluster graduation season. Some are giving me a heads up that they're working full time. Some just want to tell me they painted their toenails purple.
Any students who click the two lower memes or write me a message definitely get an email from me later in the week. (Sidenote: I write my notes right in the "response spreadsheet" created by the Google Form and use Yet Another Mail Merge to send emails. Saves lots of time!)
I try to change the memes week-to-week. This week: It's the Tiger King version.
This check-in is something I started during this time of remote learning, but I'll continue it when we're all back together. Ever-changing memes also keep the kids excited to wonder what you'll have on the check-in.