Somewhere along my education journey, this statement embedded in my mind: Make sure your classroom library reflects your students. 
But this isn't good enough. Instead, we should be thinking this:
Make sure your classroom library reflects people globally.
My classroom library certainly doesn't, nor do my recommendations. I've always purchased new books every year that my students wanted, such as more mysteries, more true crime, more military, or more non-fiction. I've also purchased a couple of new young adult literature collections each year, which usually include a few diverse authors.
Until now, I'd felt good about this. I could find books and authors from nearly every background if a student requested it.
The problem is, my students don't request it. Nor have I usually included these books if I'm narrowing down choices for a struggling reader. Sure, I've promoted The Hate U Give and Everything Everything, but providing one diverse author out of every nine or ten books is anything but a win.
Yesterday I spent a few hours thinking about all of this and also doing some research on what our government and media are suggesting our teens read. Here's what I found in my very unscientific study: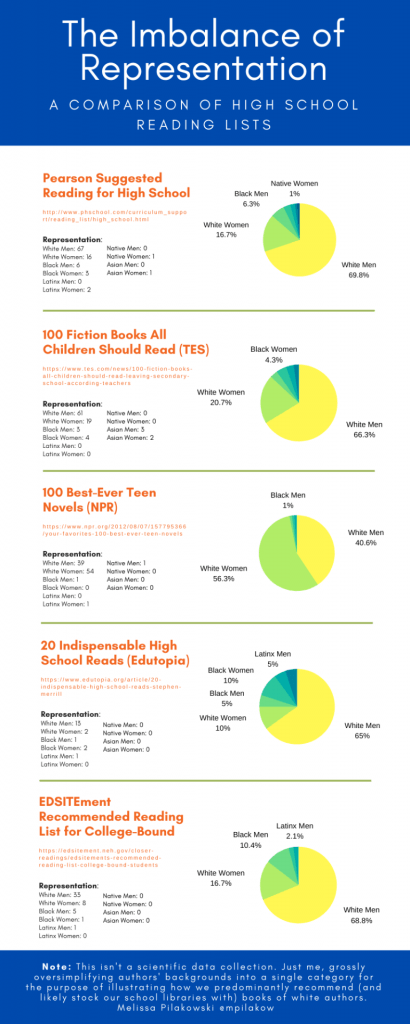 To summarize this infographic, 80-90% of what these sites recommend are white authors. (And dear god, NPR! Did you read ANY books by a POC? Sherman Alexie as the first one on the list….in the 31st position!)
I can't say my recommendations are any better than this infographic. Here's how it goes in my room. If a student needs a book recommendation, I peruse my shelves and find 3-5 books that would be a good fit for that student's interests. However, how many of these 5 books are from a Person of Color? One, maybe two on a really good day.
What's even worse is that I do have titles from a diverse set of authors (though not enough). Unfortunately–nay, let's go despicably–I haven't read many of them. This is a huge problem, because I make many recommendations based on books I've read. This means I'm going to be focusing on reading more diverse authors for my summer reading.
But there aren't many titles from authors of color in young adult literature
You're not wrong, although I would argue that publishers are picking up more titles by authors of color. Do yourself a favor and pick up The Poet X, All American Boys, or The Absolutely True Diary of a Part-Time Indian. However, if we made pie charts from the past two years of published young adult authors, those charts would be similar to the ones above.
I get that publishers are buying more from white authors because that's where the money is. That means we need to do a better job as educators to purchase books from diverse authors. We need to raise the demand for those books and those authors, as well as provide these diverse voices to our classrooms.
There are some minority backgrounds that are harder to find in books, such as Native American teen life. Sure, we have Sherman Alexie, and there are other great Native authors who write for a more adult audience, such as Louise Erdrich, Joy Harjo, and Leslie Silko Marmon. But there is a huge dearth of Native authors writing for teen audiences.
That means we need to actively search these books out. There are a few out there, such as Hearts Unbroken by Cynthia Leitich-Smith, and The Marrow Thieves by Cherie Dimaline. Unfortunately, the number of Native voices writing for young adults, or at least finding publishing success, is far too low, especially for students on or near reservations (like mine).
Take the opportunity this summer. Look through your classroom books and search for voices not present and represented. Locate and order books that can add to your students' knowledge and understanding of our global community.