We tried out a new add-on in my Brit Lit class today:  the Google Read and Write highlighting tools.  The current highlighting tools in the Google toolbar aren't exactly the easiest to use, but this add-on made highlighting so much easier!
We're smack in the middle of a Jonathan Swift/satire unit, and we're prepping to read "A Modest Proposal."  Today we watched a Stephen Colbert clip that happens to be formatted just like an essay.  After watching the clip, I showed the students a transcript version (slightly altered to be more for the PG-13 crowd) and we reviewed essay structure.  Last semester we practiced highlighting thesis statements in green, main ideas in yellow, and supporting details in pink.  This strengthens both their understanding while reading non-fiction texts and helps them structuring their own non-fiction texts.
Instead of the clunky Google toolbar highlighting, we used the Read & Write tools–so much easier!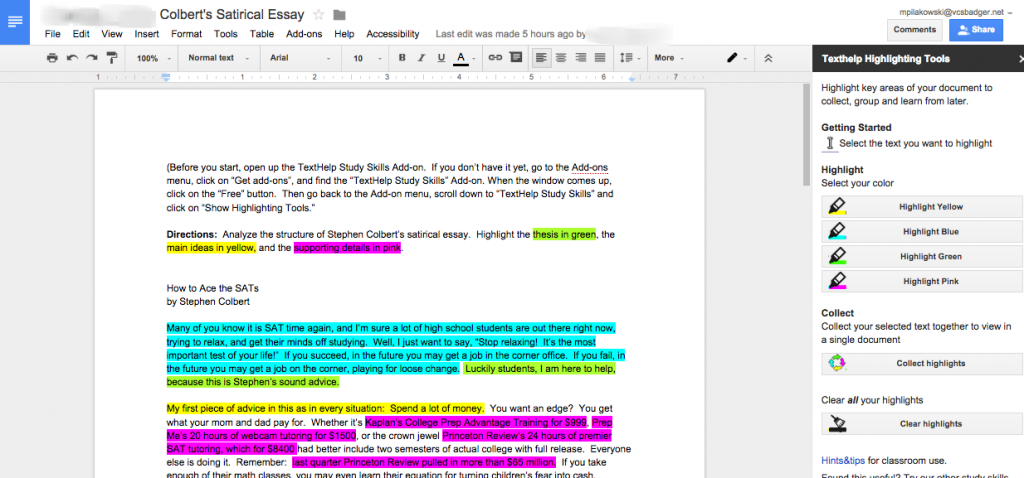 With color coding, students can see the patterns in non-fiction writing, which increases their reading ability as well as their writing ability.  Since my objective the next two weeks is to help them develop ideas in their writing, we did a reverse T-chart of this writing, analyzing the main points and then analyzing the different supporting details for each of the four points.  We did the T-charts the old-fashioned way:  plain old pencil and paper.
But today was truly a hybrid class period:  Reading (hard copy books, and ebooks on phones, and iPads),Vocab review on Pear Deck, online video, online text & highlighting, and the classic pencil to paper & whiteboard modeling work.  And to be honest, that's the way I like it.  A little something for everyone, and it keeps them moving and always doing something new that appeals to their style of learning.