I've been hard at work upgrading our fake news unit for next year. It's been a couple years since I first created the unit–long before the infamous 2016 presidential election! Since then, the internet has exploded with resources, lesson plans, and games to teach fake news. Let me show off some of my favorite, best-of-the-best selections that I'll be using!
iCivics News Literacy Unit: Great resources available for teaching journalism, bias, satire, and misinformation. Both web-based and PDF activities are available. I love some of the depth in these lessons, such as studying the word choice used by The Hill v Washington Post, or CNN v FoxNews. The unit doesn't have a lot of collaboration, but it has solid information and activities that you could use as is or modify to be more interactive.
2. NewseumEd: This website was new to me, and man, am I glad I stumbled across it. Let me tell you, there are some jewels of lessons and materials in here. I especially love the ESCAPE acronym they introduce for analyzing a suspicious source and the lesson about "Is it Shareworthy"–(I actually might enroll some of my extended family enroll in that lesson).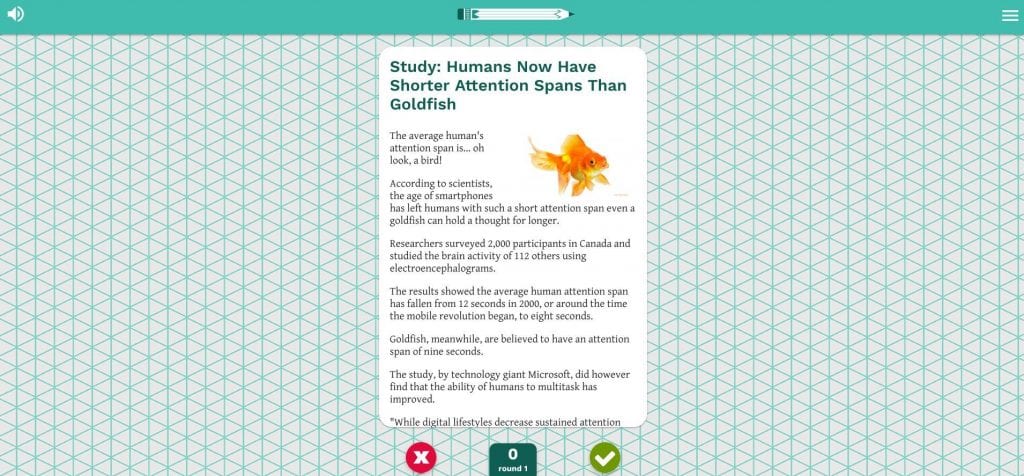 3. Factitious: I started using this game last year. It's a basic game that presents the player with an article, and the player simply decides whether it's real news or fake news. Factitious is a quick and fun way for students to get a baseline of their "fake news" sniffing abilities at the beginning of the unit and then return to the game at the end for another round.
4. Fake It to Make It and Bad News Game: These two games put you in the seat of a fake news mogul. What's the benefit of that? Students get a feel for WHY people do this, what decisions they make, and THAT gives them a deeper understanding of what signs to look for when evaluating news. The Bad News Game is simpler and quicker, while Fake It to Make It is much more robust with more choices and strategy. Both are good, all depending on the time and depth you want your students to get.